EFCOMBATIVES PRESENTS...
Combatives User Course
A Comprehensive Online Training System For Law Enforcement Officers
2 Years of Access, Only $449
What is the Combatives User Course?
Are you looking to enhance your defensive tactics skills as a police officer? You're in the right place! Our comprehensive online course is designed to provide you with the knowledge and training you need to improve your performance in the field, reduce your risk of injuries, and enhance public safety. Made to be flexible, you can learn at your own pace and on your own schedule - with convenient access to our training materials from any location!
Empty space, drag to resize
OPEN TO THE PUBLIC
Designed for proactive and open-minded individuals looking to train in effective combatives tactics.
Empty space, drag to resize
BEST IN CLASS
INSTRUCTOR CADRE
Over 250+ years combined law enforcement experience from our instructor cadre using field proven science driven fitness and combatives.
UNLIMITED ACCESS
24/7 access to our platform where you can explore resources, continue your professional development, share thoughts and ideas, increase your connection, get assistance from our Subject Matter Experts.
ADULT LEARNING METHODOLOGIES
Learning relevant to immediate application designed for you to be in charge of your own personal growth and professional development.
Empty space, drag to resize
Empty space, drag to resize
TRAINING FOR COPS, BY COPS
Our course provides consistent and standardized training that ensures all officers are using the same tactics and techniques, based on up-to-date information on best practices in defensive tactics. This includes legal and ethical considerations, so you can be confident that you're using tactics that are not only effective but also safe and compliant with relevant regulations.
Empty space, drag to resize
IMPROVE YOUR SKILLS AND CONFIDENCE
By taking our course, you'll improve your skills and techniques for de-escalation, use of force, and control tactics, which can help you to stay safer in the field and reduce your risk of excessive force incidents. By learning how to handle difficult situations with more confidence, you'll also enhance public safety, which can help you to build trust and respect within your community.
Empty space, drag to resize
FEATURES
2 Years of 24/7 Access to Online Course Material

EFCombatives Mobile App (Apple iOS and Google Play)

Direct Communication with EFC Instructors

Exclusive Group Coaching Calls & Webinars

Over 5 Hours of Video Content (65 Videos)

Certificate of Completion
Empty space, drag to resize
COURSE OUTLINE
This course is a complete online program designed to elevate your approach to combatives techniques with the ability to learn and train anywhere, anytime. The course will equip you with the fundamental knowledge and skills for use in combatives, defensive tactics, and use of force situations.
Empty space, drag to resize
Introduction and Course Overview

Single Officer Apprehension

Weapons Defense

Principles of Defensive Tactics

Single Officer Takedowns

Weapon(s) Based Entanglements (WBE) & Movement

Use of Force

Introduction to Skill Building

Multiple Officer Scenarios

Post Immediate Use of Force

Conditions of Space & Priority of Life

Dominating Defensive Positions

Weapons Retention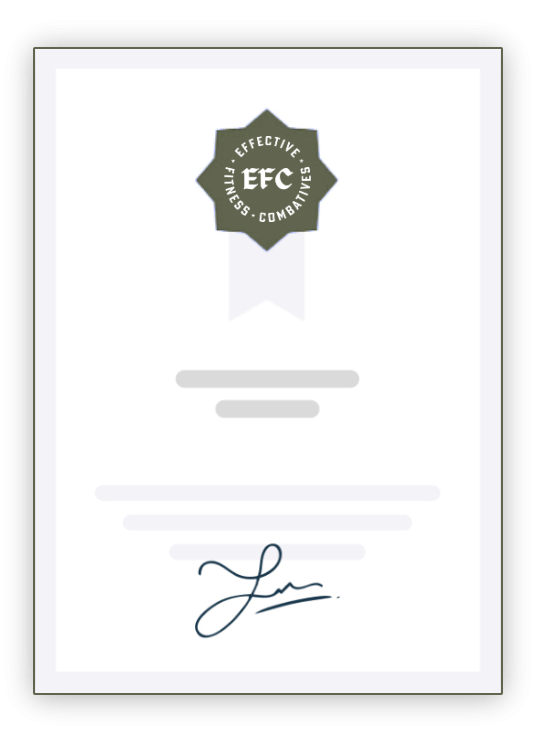 Empty space, drag to resize
CERTIFICATION CRITERIA

5 Hour Training
Self-Paced, Online Video Lessons
Receive Combatives Online Certificate of Completion

2 Year Licensure

Certification Expires 2 Years Past Certification Completion Date
Certification Renewals Available (Renew at $99 Every 2 Years)
COST-EFFECTIVE, ON YOUR TIME
Our program is a cost-effective way to improve your defensive tactics skills without having to travel or pay for in-person training. You'll get access to expert instructors and a wealth of training materials, including videos, interactive exercises, and quizzes, all designed to help you master the skills you need to excel as a police officer.
Empty space, drag to resize
Empty space, drag to resize
Don't just take our word for it.
Hear it first hand, directly from fellow law enforcement.
Empty space, drag to resize
"My first EFC course and I was extremely impressed and satisfied with the entire weekend. A lot of great information and knowledge shared during the course. Valuable information to carry over into the streets and utilize during my career. The instructors knowledge was incredible and they really focused on making sure skills were done correctly and gave feedback/ reinforcement on what you were doing and that it was done well."
EFC Member
Combatives User Course
"All of the concepts taught at the training can be utilized on the job immediately. Instructors are very knowledgeable and professional and have the background to know what will work in an LEO environment."
EFC Member
Combatives User Course
"The price is often a small price to pay. The material packed into this 2-day course was definitely weeks worth of material and the one on one interactions with the instructors and individual training is unmatched. I learned so much in 2 days, versus what I learned in the academy regarding combatives. This is definitely a worthwhile course from some of the best instructors out there with real life LE experiences."
EFC Member
Combatives User Course
"I was expecting more lecture and then some instructional tactics training. The amount of training we received exceeded my expectations significantly. There was minimal down time and everything moved smoothly and built off previous skills."
EFC Member
Combatives User Course
"These are skills to learn that are a necessity for successful police work - every cop should be attending this course."
EFC Member
Combatives User Course
"I would highly encourage it. The information and skills learned are very applicable to police officers, regardless of what department you work for. Absolutely worthwhile. Concept driven material that can help agencies with material retention."
EFC Member
Combatives User Course
"This course and material is essential to learn for a career in law enforcement. The tactics presented are effective, simple, and efficient!"
EFC Member
Combatives User Course
"Honestly, we thoroughly enjoyed the day and took many things away from this brief intro. Did exactly what I was hoping it would, open the eyes of my instructors and whet their appetite for more. We have been lacking a direction for our hands on program for a while. Already talked to [EFC] and I think I could sell the agency into hosting an instructor class and adapting the program agency wide... Jay was an amazing instructor, and I felt the guys really identified with him."
EFC Member
Combatives User Course
COURSE EVALUTATIONS
SEE OUR STATS...
100% OF STUDENTS
stated that they agree or strongly agree that this course made them more confident, showing an increase in confidence of defensive tactics by an average of 40%.
100% OF STUDENTS
stated that they agree or strongly agree that they are interested in taking future courses with EFC.
97% OF STUDENTS
stated that Combatives User Course activities were either engaging or very engaging.
Frequently asked questions
How can we license the use of this material for our agency?
We do have an agency program. For more information about licensing EFC products for your agency, please email
[email protected]
.
Do you have SME on hand to testify in court?
Yes. We can provide this service at an additional cost.
Is this course available to the general public?
Yes, this particular online course is available to the public.
Is the Online Training separate from the In-Person Training or is it combined?
All of our training comes with online course material that can be accessed for 24 months.Our "Online Courses" are separate and different than our "In-Person Courses".The EFC Instructor Certification Course is only available through "In-Person Courses".
Is this online course post certified in my state?
Contact admin@efcombatives to learn more about the status of POST certification in your state. We are working to have all our courses POST certified in all 50 States.
Who do I contact if I'm having trouble accessing course material?
Who do I contact if I can't log into the mobile app?
If you have downloaded EF Combatives from the App or Google Play store and the issue is logging in with your credentials, please email
[email protected]
for assistance. If you are having trouble downloading the App, please watch this quick video tutorial.
How long will I have access to the course?
The initial term is for 2 years (24 months). After 2 years, you will have the option to continue your access at a discounted annual rate.
What is your refund policy?
Payment form
Ready to take your defensive tactics skills to the next level? Enroll in our online course today!
Guaranteed Security using one of the most advanced encrypted systems on the market.
The information in this page is being processed and encrypted securely using industry-leading encryption and fraud prevention tools.